WHEN: Tuesday, Mar. 24th, 10:00AM ////  WHERE: NYU Music Dept. Rm 220 (24/32 Waverly Place, NY 10003) /// This event is free and open to the public.
DC-based Composer Steve Antosca will present his work My End is My Beggining, with live performances by harp-sax duo Pictures on Silence of Noah Getz and Jacqueline Pollauf and the National Gallery of Art New Music Ensemble members Ross Karre on percussion and William Brent on electronics with guest pianist Jacob Greenberg from ICE.
bio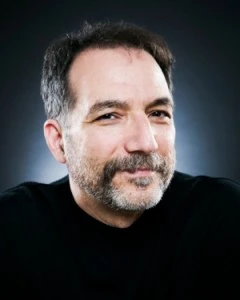 The music of composer Steve Antosca focuses on the integration of instruments with computers. Through the realization of scores that combine elements of indeterminacy and traditional notation with technology, musicians craft sonically rich performance environments.
Named Artistic Director of the National Gallery of Art New Music Ensemble, which he formed in 2010, Antosca was the Gallery's composer-in-residence in the Fall of 2013. His compositions for the NGA NME blend the architectural resonances of the Gallery's unique performance spaces with computer treatment of performers' sounds to generate a rich fusion of sonic textures.
Antosca's compositions have been described by the Washington Post as "spectacular, wonderfully provocative" and "a shimmering, multilayered sea of sound, surging with power under a surface of delicate detail — a fascinating dance between the human players and their electronic ghosts."
Included among Antosca's numerous awards and commissions are the American Composers Forum/Argosy Foundation, Bourges International Competitions, Chamber Music America and Pictures on Silence, DC Commission on the Arts, Fromm Music Foundation at Harvard, Georgetown University, International Music Prize for Excellence in Composition from the National Academy of Music, Kennedy Center, Maryland State Arts Council, McKim Fund in the Library of Congress, Meet the Composer, National Endowment for the Arts, and the US Department of Education.
Antosca has a master's degree in computer music composition from the Peabody Conservatory of Johns Hopkins University.
Program Notes
my end is my beginning was commissioned by Chamber Music America in 2012 and composed for the Pictures on Silence duo and the National Gallery of Art New Music Ensemble. The premiere performance took place in September 2013 at the National Gallery of Art in Washington, DC.
A significant component of my end is my beginning is the use of real-time audio processing and spatialization over a multi-channel audio system. The technology for my end is my beginning was developed by computer musician William Brent in collaboration with the composer.
my end is my beginning employs a robust structural framework of layered material which generates overlapping patterns whose function is to connect instrument pairs. These pairings are sometimes exploited for their similarity, sometimes for their contrasting characteristics. These structural mappings generate a flowing textural thread providing continuity and movement throughout the piece.
The Ensemble
The ensemble performing today at NYU includes the Pictures on Silence duo of Noah Getz, saxophone, and Jacqueline Pollauf, harp, who commissioned the work through Chamber Music America, and National Gallery of Art New Music Ensemble members Ross Karre, percussion, and William Brent, computer musician. They are joined by pianist Jacob Greenberg.
This project is a collaboration between composer and performers who have exceptional ability and willingness to perform demanding contemporary music, and to seamlessly integrate their performance with imaginative and innovative technology.