WHEN: Wednesday, October 29th, 11:00AM (MAP Class) ////  WHERE: NYU Music Department Room 320 (24/32 Waverly Place, NY 10003)
bio
Born in Lima, Peru, Maria Chavez is mainly recognized in the art community as an improviser, sound artist, DJ and curator.
Influenced by improvisation in contemporary art, her sound installations, visual objects and live turntable performances focus on the values of accidents and it's unique, complicated possibilities with sound emitting machinery like the turntable.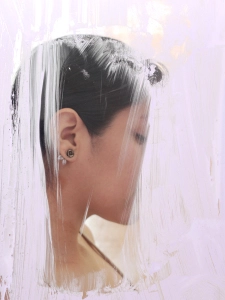 In 2012, Chavez wrote and illustrated her first book object entitled, Of Technique: Chance Procedures on Turntable. The book serves as a how-to manual for those interested in learning the abstract turntablism techniques that she developed with the turntable. "While the contents of the book serve a practical means, the book as a whole is intended to be an interactive art piece."
This book is considered the first sound related release by Chavez since her solo album release on Pitchphase in 2004. She recently signed with Software, a record label founded by Oneohtrix Point Never- Daniel Lopatin and is due to release her first full length LP in a decade, some time next year.
As an independent sound art curator in NYC, collaborating with various organizations and art spaces, Maria helps to produce events and festivals that present the latest of what is being shown in the sound art world. Being an independent curator helps to expand Maria's artistic research when developing new projects for her own practice.
As a professional DJ, Chavez shares her expansive music collection in various settings like museum openings (MoMA, MoMA PS1, Haus für elektronische Künste- Basel), gala events (Van Alen Institute, El Museo del Barrio), New York Fashion Week (SunheeNY, BeBe), radio (NTS, Concepto Radio, Art on Air, raudio aasland for Reboot.fm) and dance parties (Hott Club- Zurich, Bei Ruth- Berlin, Ace Hotel- NYC). She is currently an endorsed Moog artist for her participation in the Moog Synthesizer Residency w/ Rough Trade Records, NYC. This summer, Maria will DJ for PS1's 2014 summer Saturday series, Warm Up.
She was awarded the Jerome Foundation's Emerging Artist Grant by New York's Roulette Intermedium, became a recipient of the Van Lier Fellowship by The Edward and Sally Van Lier Fund of the New York Community Trust and was awarded the St. Luke's Chamber Ensemble commission 2015. This year, Maria was an artist in residence at INKONST, an international art center in Malmö, Sweden and was Curator in Residence with Cafe OTO, OTO Projects & Electra Productions.
She has worked with Christian Marclay and the Whitney Museum of American Art in NYC as part of Christian Marclay: FESTIVAL and has shared the stage with renowned artists such as: Pauline Oliveros; Thurston Moore; Phill Niblock and Otomo Yoshihide.
From April 19th to May 10th, 2014 Chavez embarked on a duo tour in Europe with vocal and cello improvisor, Audrey Chen performing in Oslo, Vienna, London, Basel, Berlin, Copenhagen and more. Chavez will present a new live sound installation at the Brooklyn Museum of Art in 2015.
Check out the December issue of the Wire magazine where she is the "Invisible Jukebox" interviewee with writer Kurt Gottschalk.