WHEN: Tue, Feb. 24th, 10:30AM (Comp. Seminar) ////  WHERE: NYU Music Dept. Rm 220 (24/32 Waverly Place, NY 10003)
abstract
The works of Ferrer-Molina, Isaac Diego and Miguel Álvarez-Fernández inhabit the margins between experimental music and sound art, while also exploring conceptual art, performance, experimental video and other possibilities for developing our relationship with sound. Their activities are channeled through concert pieces, sound installations, sc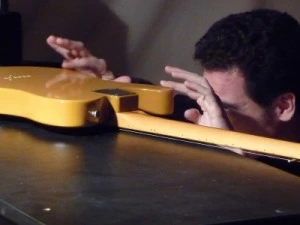 ulptures, curatorial projects and many other manifestations, which will be presented in this session.
The three Spanish artists also work as musicologists/sound theorists, researching the fields of sound art and experimental music, always in connection with their artistic endeavors. Their visit to the US is related to a lecture scheduled at Harvard University on February 26th (where they will be joined by Prof. Jaime Oliver La Rosa; more info here).
Since 2014, Miguel Álvarez-Fernández, Isaac Diego and Ferrer-Molina serve at the board of directors of the AMEE (Spanish Association for Electroacoustic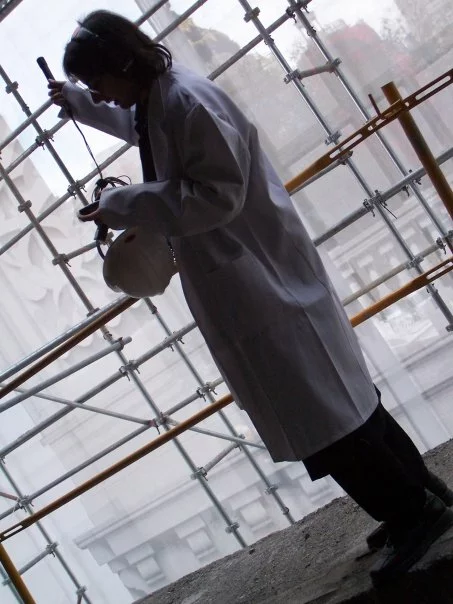 Music), which —among many other activities— holds the annual festival "Punto de Encuentro" in different cities of Spain and abroad.
bios
Ferrer-Molina is a sound artist, musicologist, conductor and critic, with degrees in guitar, piano, choir conducting, music education, musicology and composition at different conservatories of Valencia and Madrid, Spain. He studied electroacoustic composition mostly at LEA (Conservatory of Valencia) and LIEM / CDMC (Reina Sofía, Madrid). Having finished his Masters degree, he is currently pursuing a Ph.D. in Fine Arts at the Polytechnic University of Valencia under the guidance of Miguel Molina. He is the author of the upcoming book "Heterodoxy of the guitar. Taxonomy of new artistic practices", by the "Notebooks of Fine Arts/Music Collection".
Isaac Diego García (Madrid, 1978) is a musicologist, composer, sound artist, performer and singer. In 2011 he finished his Ph.D. in experimental music in Spain at the University of Oviedo. He has studied classic guitar, renaissance lute, voice and choir conducting at different conservatories in Madrid and Oviedo University, Spain. In 2009 he was a guest researcher at the Experimetal Intermedia Foundation of New York with the composer and video-artist Phill Niblock. Isaac Diego is a teacher of music at the International University of Rioja (UNIR) and the European University of Madrid (UEM).
Miguel Álvarez-Fernández is a sound artist, musicologist, sound theorist and curator, born in Madrid in 1979. After his studies in Composition at the Conservatory of El Escorial (Madrid), he was appointed composer-in-residence at the historical "Residencia de Estudiantes" between 2002 and 2005. He is finishing his Ph.D. in Musicology (M.A. from the University of Oviedo). Álvarez-Fernández is a teacher of music at the European University of Madrid (UEM) and since 2008 he hosts "Ars Sonora", a weekly radio broadcast featuring experimental music and sound art aired on Radio Clásica/RNE (Spanish National Radio).