This Spring Semester 2015 we have a lot of activity, some of which is outlined below.
New Spaces and Resources: 
Room 365 is almost ready and we expect to be listening to new sounds through our 12 channel system in no time. Rooms 219 and 319 will undergo gradual renovation, but will be in working condition and gradually improving.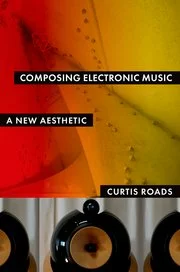 Guest Talks:
We're delighted to have some amazing visitors such as Curtis Roads, (UC Santa Barbara), who will be presenting on February 26th Rhythm in Electroacoustic Music in the Department of Music Colloquium series from his newest book Composing Electronic Music: A New Aesthetic (Oxford Press, 2012). He'll also participate in the Spatialized Music Concert.
We'll also have visits by Steven Takasugi, (Harvard / Schloss Academy) on March 10th and Steve Antosca on March 23rd, as well as the legendary Phil Niblock on March 5th, amongst many other visitors. But we start this coming Tuesday Feb 24th with a talk by spanish composers and sound Artists Miguel Alvarez Fernández, Issac Diego, and Ferrer Molina,
In Residence:
This semester we're excited to have several artists doing small residencies in our department:
Patricia Alessandrini and Freida Abtan from Goldsmiths, will be working in Room 219 on an installation for the Spatialized Music Concert curated by Elizabeth Hoffman at the Skirball Center on February 27.
Bryan Jacobs from Qubit/Columbia will also be working in Room 219 in a research collaboration with J. Oliver building a robotic arm for music performance, installation, and other sound explorations.
Concerts:
On February 27th, the Washington Square Contemporary Music Society series sponsors a Spatialized Music Concert at NYU's Skirball Center for the Performing Arts with 5 world premieres or 2 nyc premieres of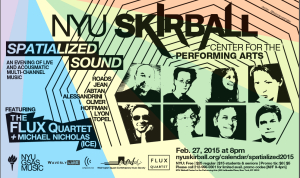 electroacoustic or mixed media by composers Patricia Alessandrini, Oliver, Hoffman, Curtis Roads, Eric Lyon, Spencer Topel, and Monique Jean, with the Flux Quartet and cellist Michael Nicolas.
On April 16, 17, and 18th, we launch the new waverly~project concert series by NYU composers with performances by Talea, Iktus percussion and ensemble Mise-En amongst many others!
Courses:
E. Hoffman will be teaching an undergraduate course on sonification and J. Oliver a graduate seminar on the interactions between sound and image.
More Information Soon…!